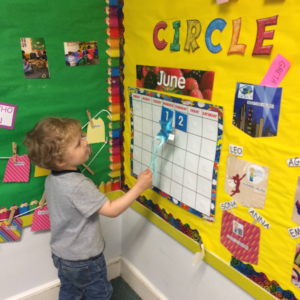 The Kendall School understands that children grow and develop at their own pace. We provide an atmosphere that supports the growth of the whole child- the social, emotional, physical, and intellectual child. The Kendall School offers a variety of creative activities as well as science, free play, music, cooking, foreign languages, class time, and special projects. Creative activities include art (drawing, painting and crafts), music (rhythm and songs), dance (creative movement), and drama (imaginary play and theatre) in both structured and unstructured situations.
A typical day starts with Free Play indoors including painting at easels, learning on computers and access to materials that help develop cognitive skills, hand-eye coordination, creativity, and pattern recognition such as blocks, puzzles, and other educational toys. Next is Meeting Time which includes calendar learning, "Show and Tell", and a story or poem. A daily Music Circle accompanied by a pianist is next and is followed by a 45 minute Class Time with children organized according to their age group. This is the time of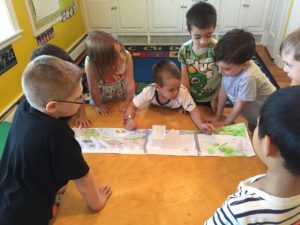 day any individual readiness work is presented to the children. Teachers teach on a thematic or unit basis and older groups participate in a Reading and Math readiness program that has proven of great value to the children upon entering primary school.
In the afternoons, after lunch and rest, the programs for class time are diverse and expansive. Monday offers Science and Nature class geared to each age level, Tuesday offers Drama class, Wednesday offers French/Spanish or English as a Second Language class, Thursday has creative dance instruction, and Friday is Cooking and Nutrition day. These afternoon programs are inclusive in the regular Full Day tuition or Stay Day charges.