The Kendall School offers programs for children from ages 2.9 through 5 years on a five-day basis for all children and on a three day basis (Monday, Wednesday, Friday) or two day basis (Tuesday and Thursday) for 3 year old children only.
Early Bird Room …………………… 8:00 AM to 8:30 AM
Morning Program …………………… 8:30 AM to 12:00 PM
Afternoon Session …………………… 12:00 PM to 3:00 PM
Full Day Program …………………… 8:30 AM to 3:00 PM
Extended Day Program …………………… 3:00 PM to 5:30 PM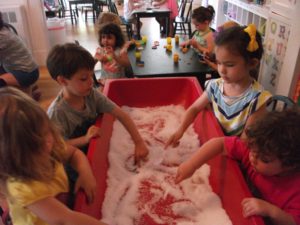 8:00-8:30 Early Bird Room: If parents need to drop off their children earlier than the regular opening at 8:30 A.M., they are welcome to do so. A classroom has been set up for this purpose each morning.
8:30-9:15 Free Activity Time: All ages, threes, fours, and fives play together during free activity time. In each classroom, there are art activities set out on tables as well as manipulatives (such as puzzles and beads). Children are encouraged to play in the dress up area, loft, gross motor room and household corner, to paint at the easels in addition to playing with blocks, trucks, or at the sensory table and on the computers which are monitored by teachers.
9:15-9:25 Clean Up: Ten minutes if we are lucky!
9:30-9:45 Meeting Circle Time: During this first teacher directed period, children are learning to sit, listen and share with classmates. Verbal and auditory skills are strengthened through calendar work, name and letter recognition, weather or story reporting and knowledge sharing about the thematically based curriculum. Teachers read poems, fiction and non-fiction books as well as facilitate Show and Tell time.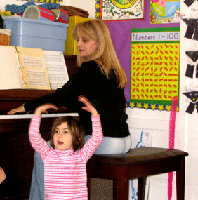 9:45-10:25 Music Circle: At Kendall School, we create opportunities for our students to love and to have a deeper understanding of music. Our goal is to improve the student's musical abilities through the five main Music Class components: a) Singing, b) Musical Games, c) Rhythmic education, d) Playing different musical instruments, e) Listening to music (children's songs as well as classical).
Children learn songs, follow hand and body movement directions, and experience rhythm all under the direction of Marina Kavlakian, Ph. D. They also, play musical games which improve children's musical abilities including music memory, singing in tune and moving to a beat. Children at Kendall School have the opportunity to play children's musical percussion instruments such as the xylophone, drums, maracas, triangles, bells, wooden sticks and more…which helps them become more musically expressive.
Throughout the school year (and during Kendall's Summer Program!) we learn songs that describe and reflect each passing season and Holiday, which helps the children learn more about our history, culture and traditions. We hold two music performances for the parents during the academic year, where the children show their progress and musical talents. These concerts are very important for developing and building the children's confidence.
Children at Kendall are fortunate to have the opportunity to engage in Music Class for 40 minutes each day. A musical environment as rich as it is at Kendall School will render a child more likely to experiment with new musical elements in the future. In addition to fostering musical abilities, music education has positive and lasting effects in the overall development of the child.
10:30-10:40 Snack Time: Assorted crackers, dried fruit and water are provided by the school.
10:40-11:25 Classroom Time: This is the time of day when the developmental curriculum is presented to the children. Each child is in his/her classroom according to age participating in teacher directed art projects. Children learn to use tools such as pencils, scissors, paints, glue, brushes etc…Teachers teach on thematic or unit basis and the older children participate in a Math and Reading readiness program.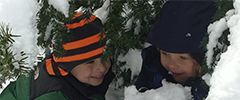 11:25-12:00 Outdoor Play: We try to go out every day, but we use our common sense when the weather is too cold or inclement.
The playground is located in the backyard of the school and is spacious and well equipped with six swings, two climbing structures, a balance beam, two slides, stepping lilypads and a very large sand box. Periodically other equipment is brought out as the year progresses (inflatable pools in the Summer Program).
12:00 Dismissal for AM Program Children
12:00-12:30 Lunch: Children bring their lunch to school in a lunch box labeled with their name. Kendall School provides beverage (milk or water).
12:30-1:15 Rest Time: The Department of Early Education and Care mandates a 45 minute rest period each day. During this time children can look at books, play with soft toys and listen to soft music if they are not sleeping.

1:15-2:15 Special Class Time: Although our morning curriculum often includes science, and cooking, these subjects are enhanced in the afternoon.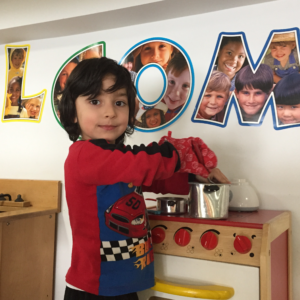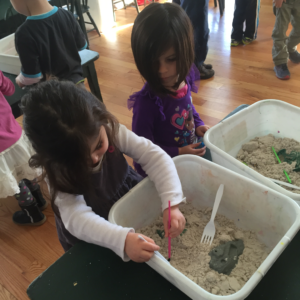 Monday: Science and Nature Class hands-on weekly experiments or projects
Tuesday: Drama Class – imaginary play and theatre
Wednesday: Language Class: French, Spanish or English as a Second Language.
Thursday: Creative Dance and Movement Class (taught by outside teacher)
Friday: Cooking and Nutrition Class- Introduction to basic cooking, food groups, utensils, measurement, manners and reading stories connected to recipes, such as "Stone Soup".
2:15-2:30 Snack Time -beverage
2:30-3:00 Outdoor Play: A second opportunity for our full day children to enjoy the spacious playground.
3:00-5:30 Extended Day: Extended day includes outdoor play, indoor play, a hearty snack, story time and/or art project. Extended Day is available every day that school is in session.
5:30 School Closes
The Kendall School encourages the efforts of the individual child in continuous happy learning experiences. Thus, the curriculum is a pleasant transition from the initial education in the home to the more formal instruction of the elementary grades.