The Kendall School offers a Transitional Kindergarten program called "Kendall K." This program is designed to accommodate children with fall birthdays who miss the traditional cut-off date of September 1st for their town elementary kindergarten class. It is also an enriching alternative for parents who may want their child to experience an extra year of preschool.Transitional Kindergarten
For most children, this is a third year of preschool, so stimulation is the key to a successful year. The curriculum in Kendall K is thoughtful, thorough, academic, and creative. It is designed to engage student interest by exploring topics in-depth.
During the year, we complete an in-depth study of an author such as Jan Brett or Ezra Jack Keats. We study fine art and artists and explore themes like outer space, the rain forest or Boston for a month-long study. We may also choose to spend a week studying squirrels or bats and really focus on the science of these creatures.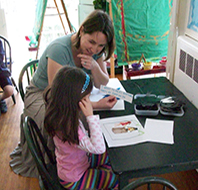 The underlying focus is Kindergarten readiness and we incorporate weekly writer's workshops, the creation of class books, and learning lower case letters and letter sounds. Early math work includes patterning, sorting, counting to the 100th day of school, counting by tens, understanding the "teen numbers," and recognizing more complex shapes.
Our school-wide monthly Kindness Curriculum theme is a wonderful social studies lesson that reinforces the responsibility that we give the "Kendall K" class as being the oldest students in the school. All the while, these children are strengthening their social skills, building confidence, and gaining useful knowledge that will help them transition seamlessly into elementary kindergarten the following year.
Our "Kendall K" class embraces the advantage of the extra year of pre-school by providing students with an engaging curriculum in a supportive environment.